The Town of Arriba is considering adopting the 2018 Building Codes.
Proposed Ordinance adopting Building Codes.
NOTICE OF PUBLIC HEARING
NOTICE is hereby given of a public hearing before the Board of Trustees of the Town of Arriba, at 5:30 P.M. on June 12, 2023, at Town Hall 711 Front Street, Arriba, Colorado 80804 for the purpose of considering the adoption by reference of The International Building Code, 2018 edition, the International Residential Code, 2018 edition, the International Mechanical Code, 2018 edition and the International Energy Conservation Code, 2018 edition, including the appendices of each code specified herein as the building codes of the Town of Arriba.
Copies of the above referenced code are on file at the office of the Town Clerk and may be inspected during regular business hours. If enacted as an ordinance of the Town, this code will not be published in full, but in accordance with state law, copies will be kept on file.
The above referenced code is published by the, and published by the International Code Council, Inc, 500 New Jersey Avenue, NW 6th Floor, Washington, DC. The subject matter of this code relates primarily to the adoption of building code regulations for the Town. The purpose of the Ordinance and the Code adopted therein is to provide a system of building regulations consistent with state law and generally conforming to similar regulations throughout the state and nation.
At its next regular meeting following this hearing, the Board of Trustees will consider passage of the adopting Ordinance.
This notice is given and published by the order of the Board of Trustees.
DATED this 16th day of May, 2023.
TOWN OF ARRIBA, COLORADO
Josie Hart, Arriba Town Clerk
/s/
TOWN OF ARRIBA
Dog Clinic
Wednesday, June 14
4:00pm - 6:00pm
at the Arriba Town Hall 711 Front Street
NOTICE OF BUDGET
2022 Supplemental Budget
Welcome!
The Town of Arriba is a little town on the eastern plains of Colorado
The Board of Trustees created this website so that you, as a resident or consumer of services, can pay your water and sewer bill online, learn about upcoming events, link to other Lincoln County and area websites, or send us a message. We hope you find our new website an easy, convenient way to access what you need from the Town of Arriba. Also, please feel free to send us a message regarding changes or improvements you would like to see here.
Arriba, population 200, sits at nearly a mile high (5,228 feet) along Interstate 70 in northeastern Lincoln County. The community here is largely agricultural, with state-service residents that work for the Colorado Department of Corrections and the Colorado Department of Transportation. The community supports three separate churches and is within the Arriba-Flagler consolidated school district, with the local school located in nearby Flagler, Colorado. Residents find Arriba a quiet, safe community to raise families and enjoy retirement years. We look forward to serving you here online!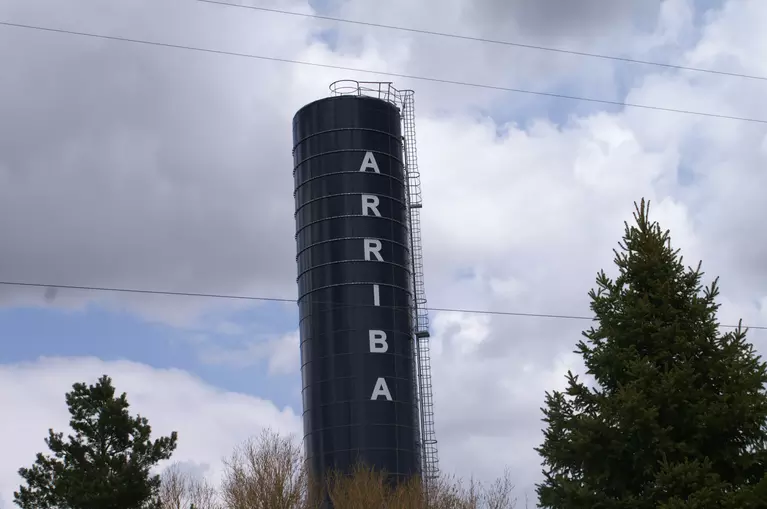 Next Board Meeting

The Town of Arriba Board of Trustees Regular Meeting Monday, June 12, 2023 at 6:00pm.
To sign up for virtual participation please email Town Clerk Josie Hart by 5:50 p.m. on June 12 at townofarriba@esrta.com with your full name and home address. You will receive an email with further instructions.

Leisure Pines

Leisure Pines is a small apartment complex in Arriba for individuals that qualify with HUD

Leisure Pines office 719-768-3292