Town Dog Clinic
Wednesday June 1st 4pm-6pm
at the Arriba Town Hall
 
Public Hearing Notice
The Town of Arriba Board of Trustees will be holding a hearing to review a proposed ordinance regulating mobile homes and a proposed ordinance regulating RVs.
The Town of Arriba Board of Trustees will also review a resolution to Opt Out of the State of Colorado FAMLI.
The hearing is open to the public and will be held at the Arriba Town Hall at 711 Front Street Arriba Colorado on Monday, June 13, 2022 at 5:30pm.
Town of Arriba
Welcome!
The Town of Arriba is a little town on the eastern plains of Colorado
The Board of Trustees created this website so that you, as a resident or consumer of services, can pay your water and sewer bill online, learn about upcoming events, link to other Lincoln County and area websites, or send us a message. We hope you find our new website an easy, convenient way to access what you need from the Town of Arriba. Also, please feel free to send us a message regarding changes or improvements you would like to see here.
Arriba, population 200, sits at nearly a mile high (5,228 feet) along Interstate 70 in northeastern Lincoln County. The community here is largely agricultural, with state-service residents that work for the Colorado Department of Corrections and the Colorado Department of Transportation. The community supports three separate churches and is within the Arriba-Flagler consolidated school district, with the local school located in nearby Flagler, Colorado. Residents find Arriba a quiet, safe community to raise families and enjoy retirement years. We look forward to serving you here online!
2021 Water Quality Report for 2020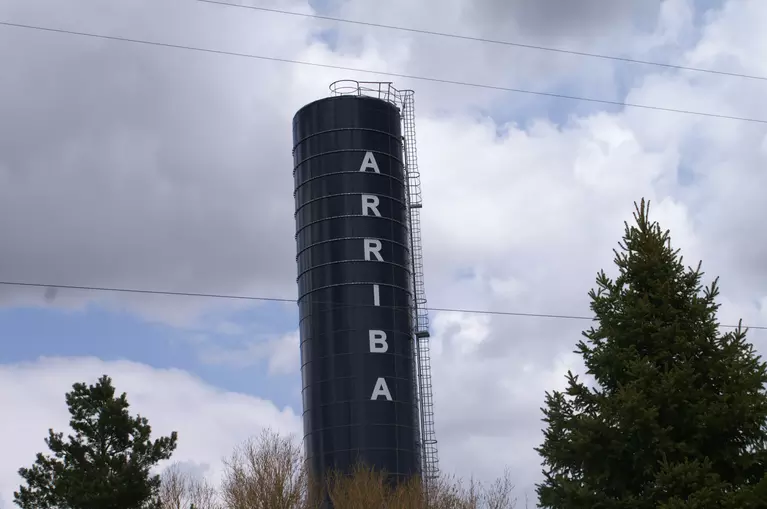 Next Board Meeting

The Town of Arriba Board of Trustees Regular Meeting Monday, April 11, 2022 at 6:00pm.
To sign up for virtual participation please email Town Clerk Josie Hart by 5:50 p.m. on April 11 at townofarriba@esrta.com with your full name and home address. You will receive an email with further instructions.

Leisure Pines

Leisure Pines is a small apartment complex in Arriba for individuals that qualify with HUD

Leisure Pines office 719-768-3292